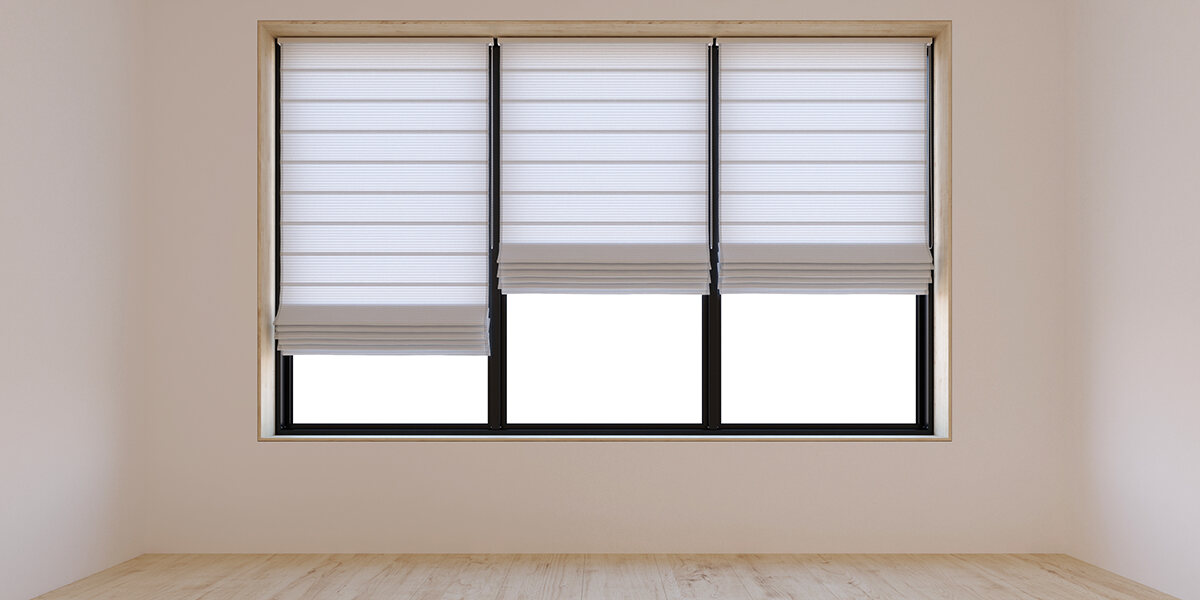 The design world's black-versus-white debate is long-standing. Many designers prefer the crisp look of white's pure tint. Others admire the versatility and richness of black, which hides imperfections. 
Fortunately, you don't have to choose between them, especially if you're going for a farmhouse look or a modern one. Start by considering Window Works Studio's white windows with black high-quality blinds in Jamestown, North Carolina. 
White window treatments also complement black window frames perfectly! But should you take advantage of the current black-white trend to start blending or creating contrast to your existing window frames? Here are a few ideas.
What Styles Encompass the Black and White Duo?
Mixing black and white is common in modern homes that implement a crisp contrast by placing the two side by side. For example, in contemporary homes, white walls create an airy feel while the black trim grounds and defines the overall look. 
However, these aren't the only styles that utilize these colors. You can see them all over traditional, transitional, and farmhouse architecture-style abodes too. 
Why Black Blinds Rather Than Black Window Frames?
If you're going for any of the above design styles, consider white trim and black blinds. Your traditionally-colored windows are probably already white, so choosing black blinds will keep you from needing to repaint your trim to a darker color. 
Black window frames could also deter homebuyers if you ever consider selling because lots of people look for white trim and windows. So, black blinds offer optimal privacy from passersby and let you see the contrast next to the white frames. Understandably, black blinds can overwhelm some rooms, but they effectively deter sunlight.
Why Black Frames Rather Than White Ones?
On the flip side, black blinds may have you constantly choosing between privacy and natural lighting alongside a beautiful view. In that case, opting for black windows with white blinds means you'll have a lighter-colored fabric that lets in light while still offering privacy. You'll also still be able to admire a splash of rich black from your fascia, which provides style and dimension. 
White Trim or Blinds: Which is Best?
White blinds double as energy-efficient window treatments. A darker material will absorb heat while this lighter shade reflects it. 
With white frames and black blinds, the summer heat will enter your home more easily to do battle with your air conditioner. Often, that means running it longer or working it harder to produce cool air, which will push up your utility bills.
 Choosing to switch to black frames with white blinds might be a better alternative.
Schedule a Free Consultation with Window Works Studio in Jamestown, North Carolina, Today!
Inspire your home aesthetics with the experience and diversity of two companies in one! Amy Baradell and Amy Meinecke owned separate companies before July 2009. Now, they bring decades of experience combined, whether you want roller shades for a minimalistic feel, long curtains so that windows look bigger, or design advice!
What's your take on black windows with white blinds? Call 336-489-8712 today and let Window Works Studio help you achieve amazing designs in Jamestown, North Carolina!
Founder of the High Point Chapter of the WCAA. I was a Registered Nurse with a combined experience of 16 years, before obtaining a degree in clothing and textiles. I enjoy working with people and creating beautiful things that enhances my clients' lives.
Comments