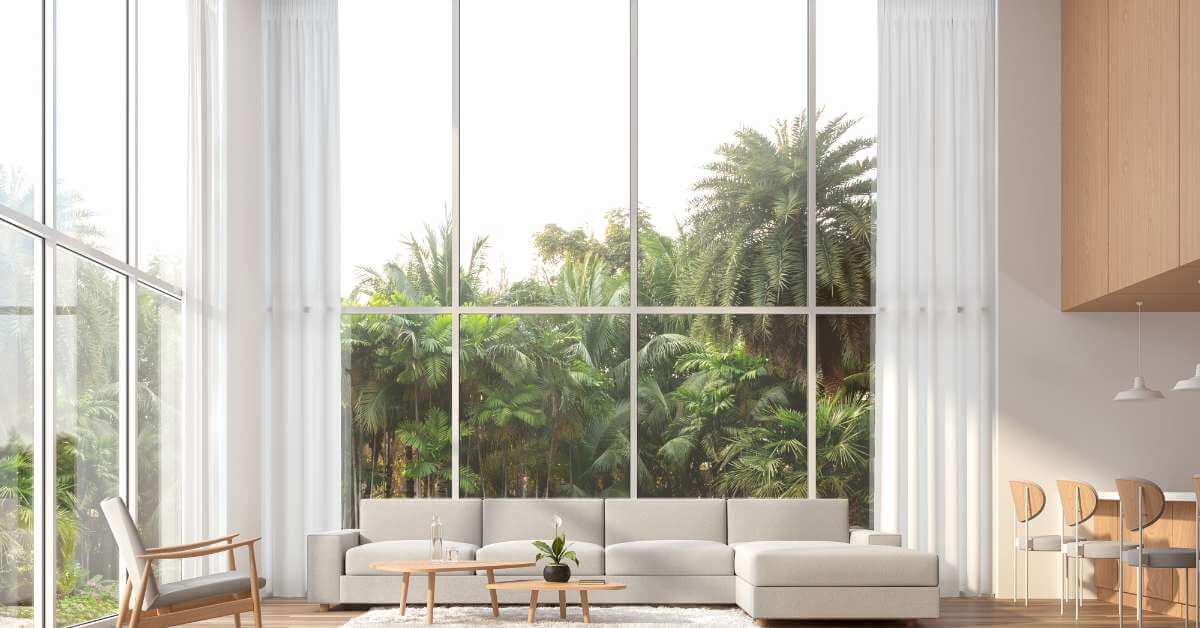 If you're someone who appreciates the beauty of minimalism and desires to create a serene and organized living space, you're in the right place. Welcome to our comprehensive guide on modern minimalist window treatments – the key to elevating your home's aesthetics and functionality while staying true to the "less is more" philosophy.
Understanding Minimalism in Interior Design
Minimalism, a design movement that originated in the 1960s, has since then revolutionized modern design across various disciplines. At its core, minimalism advocates simplicity, functionality, and clean lines. In architecture and interior design, this approach means stripping down a space to its bare essentials, eliminating clutter, and incorporating natural light and neutral colors.
The core characteristics of modern minimalism include:
Less is More: Remove unnecessary items and focus on quality pieces that serve a purpose.
Functionality and Simplicity: Each element in the space should have a specific purpose, even if it's decorative.
Clean, Straight Lines: Utilize geometric shapes and organized spaces, avoiding clutter and busy decorations.
Monochromatic, Neutral Colors: Ground and brighten the room with neutral tones, occasionally adding a pop of accent color.
Limited, Specially-Chosen Materials: Opt for high-quality materials like wood, metal, or glass for a refined look.
Lots of Natural Light and Open Space: Embrace large windows to allow ample natural light and create an open, breathable atmosphere.
One or Two Statement Pieces: Choose a few decorations that represent your personal taste without overwhelming the space.
By implementing these strategies, your home will effortlessly exude a sense of simplicity, balance, and thoughtfulness. Whether it's your bedroom, kitchen, living room, or bathroom, minimalism can be applied to any room, creating a calming and intentional environment.
Choosing Minimalist Window Treatments
Window treatments play a crucial role in achieving a minimalist aesthetic. When selecting window coverings for your home, consider the following key aspects:
1. Color
Neutrals are the foundation of a minimalist color palette. Whites, greys, light blues, and browns reflect natural light and promote a sense of brightness and airiness. To add contrast and personality, consider incorporating one or two accent colors. However, be cautious not to overdo it, as simplicity remains the primary focus.
2. Functionality
Functionality is paramount in minimalist design. Your window treatments should be easy to use, offer great light control, and provide insulation and UV protection. Motorized window treatments are an excellent choice, allowing you to adjust them effortlessly with the touch of a button, enhancing both convenience and style.
3. Design
Keep the design of your window treatments clean and uncluttered. Opt for straight, simple lines and consider the fullness of your draperies or shades. Pleats are a stylish choice that adds texture without overpowering the space.
Top Five Modern Minimalist Window Treatments
With these principles in mind, let's explore these modern minimalist window treatments that will elevate your home's aesthetics and perfectly complement your minimalist lifestyle:
1. Roman Shades
Roman shades embody the essence of minimalism with their sleek, horizontal pleats and straightforward design. Made from a single panel of fabric, they fit seamlessly within the window frame, offering a clean and modern appearance. Roman shades lie flat against the window, optimizing space and creating a minimalist backdrop on your walls. Their cordless design adds to their functionality and safety.
2. Floor-to-Ceiling Window Treatments
For a stunning display of natural light and an expansive view of the outdoors, floor-to-ceiling window treatments are an excellent choice. These large window coverings infuse your home with light, creating an open and airy ambiance. Choose from roller shades, draperies, or solar shades to perfectly complement your minimalist style and control light as desired.
3. Woven Wood Shades
Natural shades, such as woven wood shades, effortlessly blend with a minimalist theme. Crafted from a combination of fine wood and natural bamboo, these shades bring neutral tones and a touch of warmth to any room. Their organic appeal and eco-friendliness make them an attractive and sustainable option for your minimalist home.
4. Drapes
Drapes have stood the test of time and remain a classic choice for minimalist window coverings. Two drapery designs that particularly suit the minimalist theme are:
Wave Pleated Drapes: With precise folds, these drapes exude neatness and elegance. Their simple yet stylish appearance compliments large windows perfectly.
Ring Clip Drapes: Understated yet striking, these drapes offer a clean and polished look. Easy to install and available in neutral colors, they effortlessly align with minimalist aesthetics.
5. Plantation Shutters

Plantation shutters add a touch of sophistication to any minimalist space. Whether made from faux wood or painted white, these shutters seamlessly integrate with the window frame. Their adjustable louvers provide control over natural light and privacy, and they also increase the overall value of your home as a lasting investment.
Embrace Minimalism with the Right Window Treatments
Transitioning to a minimalist lifestyle involves careful curation and thoughtful choices. With the right window treatments, you can create a harmonious and intentional living space that exemplifies modern minimalism. These top five window treatments – Roman shades, floor-to-ceiling window treatments, woven wood shades, drapes, and plantation shutters – perfectly align with the minimalist principles of simplicity, functionality, and elegance.
If you're ready to embark on your minimalist journey, explore our range of window treatment options to find the perfect fit for your home. Remember, the key to successful minimalism lies in embracing quality over quantity and creating a space that exudes tranquility and purpose.
Transform your home into a haven of minimalism with Window Works Studio Inc.! Schedule a free in-home consultation today and let us bring the showroom to you. Discover the best name brands for less and elevate your home with our stylish and functional window treatments. Don't miss out on this opportunity to enhance your living space with elegance and simplicity – contact us now!
Comments